Bracelet " confidence and self-esteem," Garnet and rose Quartz
€35,70 €76,00
Vous économisez
€40,30
(
53
%)
This bracelet in silver and natural stone Garnet and rose Quartz will help you find the confidence and esteem of you
The 2 stones used in the creation of this bracelet have benefits in common:
improving the self-esteem
restores self-esteem
What are the benefits of rose Quartz ?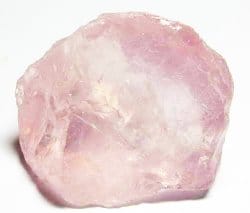 Stone of unconditional love, rose quartz alleviates the lack of confidence and restores self-esteem by helping them to accept and the image will be rewarding for oneself.
The +: it also helps to attract love.
Chakra of the heart
What are the benefits of Garnet?
The garnet is a stone energizing , which improves the confidence and self-esteem, it develops courage, perseverance and brings hope in difficult situations.
This stone will also help you to chase away the negative thoughts,.
the heart Chakra / root Chakra / Chakra of the solar plexus.
To recharge the stones of this bracelet, you just need to place them in the sun or in a geode of amethyst.
Features :
Materials: Stones of Garnet and rose Quartz / Silver 925
Length: 16.5 cm to 19cm
Avis
Livraison
Expédition

Votre article sera expédié 24H après votre la validation de votre commande...
Livraison

Estimé entre 7 et 17 jours

Partenaires UPS & CHRONOPOST
Garantie 14 Jours
Garantie 14 Jours
Garantie

Vous disposez de 14 jours pour nous retourner l'article dans son emballage d'origine.
Sans engagement

Si vous n'êtes pas satisfait(e) de l'article que vous recevez, nous vous remboursons intégralement.

Votre satisfaction est notre priorité
Retours gratuits avec Paypal

Pour vous fournir la meilleure expérience, nous avons pensé à tout: validez votre commande avec Paypal
et bénéficiez d'une prise en charge sans frais !

En savoir plus sur la Garantie Remboursement Paypal
---